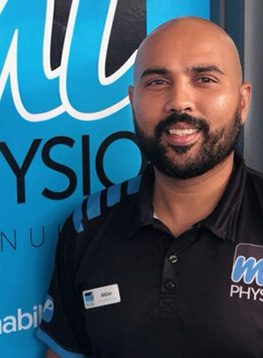 AKBAR BHAMJI | Senior Physiotherapist/Principal
BhSc Physiotherapy, PgCert Acupuncture
I am very excited to be working alongside the Fitness Plus team and be able to offer comprehensive physiotherapy service with emphasis on evidence-based medicine, exercise and rehabilitation. My goal is to not only assist you to repair, restore and resume full functional activity but to realise your potential and make it a reality.
My expertise include sports and musculoskeletal injuries, orthopaedic management focussing on
post-operative surgical repair/reconstruction, lower limb biomechanics, movement disorder/dysfunction and spinal injuries whether it be vocational (work) related, sport or recreational activities. I also offer acupuncture/ dry needling as part of injury management-treatment to facilitate recovery whether it be return to work, sport or general health.
I have significant amount of experience working with elite athletes at International level, specifically being head physiotherapist and working closely with the Manu Samoa 7s rugby team on the World Rugby Sevens Circuit and further progressing to look after the Manu Samoa 15s at the 2015 Rugby World Cup
I value diversity and respect all cultures and ethnicities. I consider a great strength is my ability to speak various languages which allows me to instantly build a rapport.
My genuine care is reflected on my attitude to delivering results and improving your overall quality of life.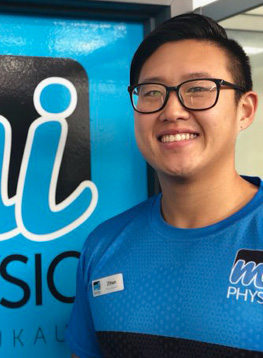 ZIHAN ZANG - BhSc physiotherapy
Growing up playing sports, injuries were always inevitable and physios became my favorite people. Working with physios I was able to return to sports at the right time and this is where my passion lies in physiotherapy. Using what I've learnt about the human body, kinesiology and exercise based rehabilitation to return you back to doing things you love.
Through my studies and experience, I believe exercise and movement is the best therapy to return to normal function and decrease pain given the progress of injury. With years of involvement in sports I have gained a variety of knowledge in gym-based exercises and training styles which translates to a challenging but fun rehabilitation process.
I am dedicated in continuing my education and utilising the most up to date theories and practices. As follows, I believe working with and not for the individual and providing all the knowledge I have, will create effective treatment session. Zihan graduated from AUT University in 2018 with a Bachelor of health Science in Physiotherapy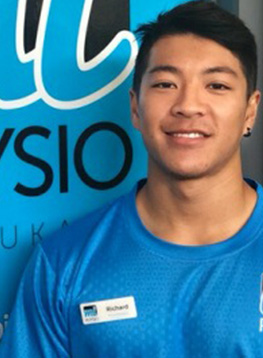 RICHARD HANN - BhSc physiotherapy
Born and raised in South Auckland, Richard has been very passionate about health and fitness which has influenced his decision to pursue a career in musculoskeletal physiotherapy, with a specific interest in sports rehabilitation. He has a keen interest in understanding how the body functions through human anatomy, physiology and biomechanics. As a Physiotherapist he enjoys helping individuals optimise their quality of life and athletes improve their performance in sports. In his spare time Richard enjoys keeping fit by exploring the outdoors on hikes, traveling, playing football and visiting the gym on a regular basis. Richard graduated from AUT University in 2018 with a Bachelor of health Science in Physiotherapy.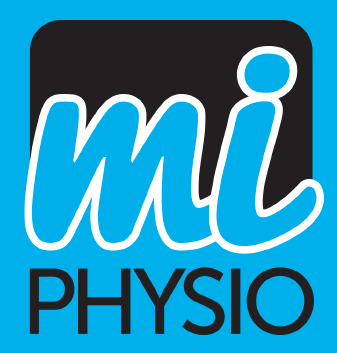 KELLY POWELL - BhSc physiotherapy, PgCert Acupuncture
Kelly graduaed from AUT with a BHSc in Physiotherapy (2011), a Post Gradute Certificate in Western Acupuncture (2013) and currently completing a BA in NZSL Interpreting. Kelly has work with a vast range of populations ranging from rest homes, schools, sports teams and private practice clinics. With specalist skills in Neurokinetic Therapy (L1) , being a Pilates Instructora and a former PINC rehab specalist. Kelly likes adventure of the outdoors with surfing and mountain biking.